10 days of Scholarship Assessment !
Do you want to know about a range of scholarships to fund your studies in Australia?
From the 15th to 25th November 2018, you'll get the opportunity to meet the University Representatives from the Top Ranked Universities in Australia at our Dhaka office!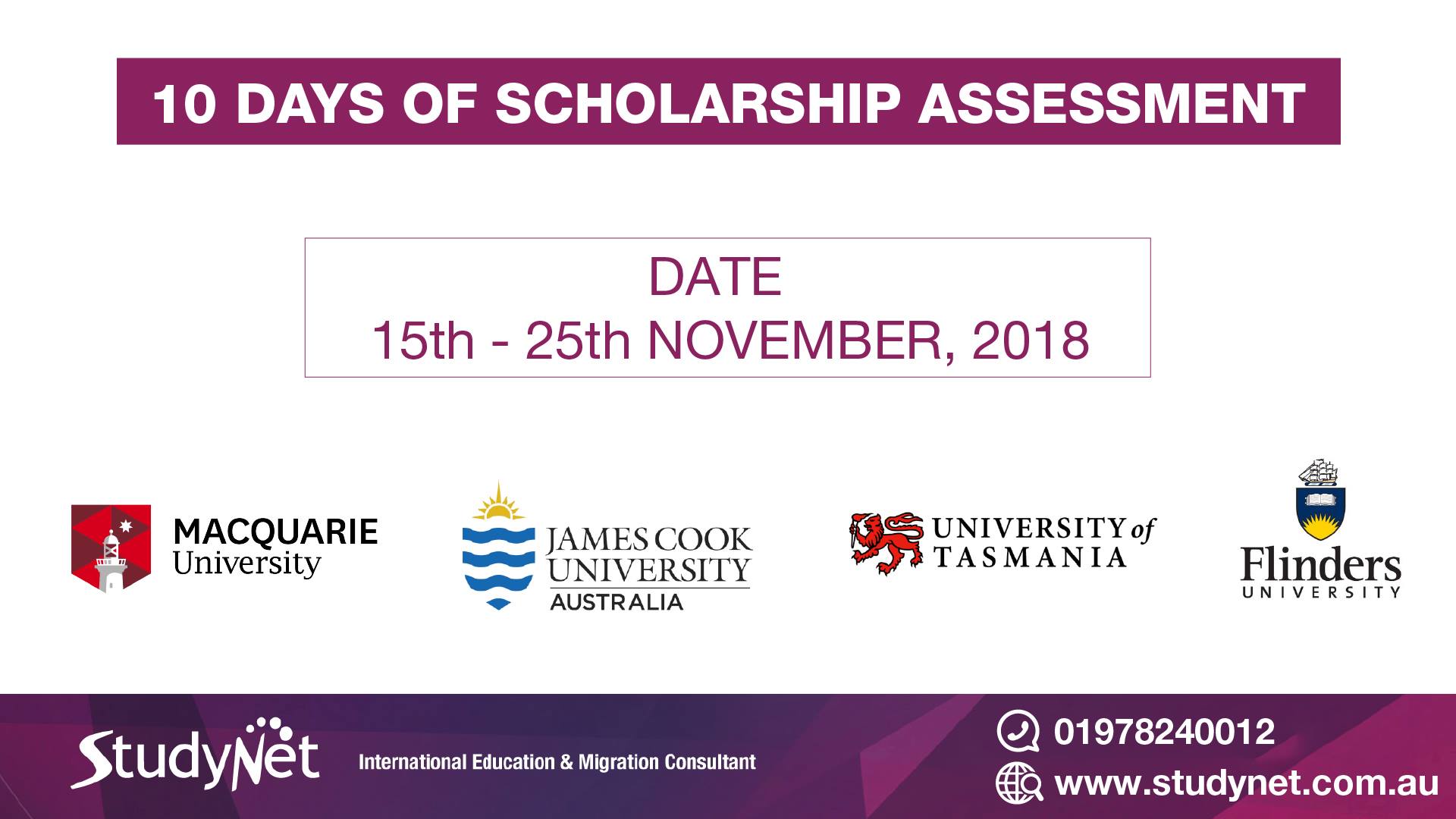 Register Now !
And get a chance to win exciting prizes!
FREE SPOT ASSESSMENT I SCHOLARSHIP I FREE ENTRY I APPLICATION FEE WAIVER I PRIZES
Participating Universities
Top Universities in Australia
FREE COUNSELLING & CAREER GUIDANCE Session on 18th & 19th of November at NSU Campus
Macquarie University- 19th Nov from 10AM to 12:30 PM at Dhaka Office
Flinders University- 19th Nov From 2:30PM to 5PM at Chittagong Office
Flinders University- 20th Nov From 3:30PM to 5PM at Dhaka Office
University of Tasmania- 22nd Nov, From 2PM to 4PM at Dhaka Office
James Cook University- 24th Nov, From 11AM to 1PM at Dhaka Office
Studynet Dhaka Branch : House# 80, Road# 2, Flat- 5A, Chairman Bari Banani, Dhaka-Bangladesh.
Studynet Chittagong Branch : Madina Tower, Level 3, 805/A CDA Avenue, Khulshi, Chattogram
HOTLINE : 029890640 I 01718240012 I 01978240012 I 01871515567
✓ Get direct consultation for undergraduate and postgraduate programmer and 'on the spot' admission.
✓ Find out detailed information on scholarships available and campus.
✓ Priority processing for pre-registered students
✓ On spot application assessment
✓ IELTS Registration
✓ EXCITING PRIZES awaits you when you attend and submit your application during the event.
Please remember to bring the following original documents: • Passport • All the academic Documents • IELTS results
What we are offering at the event?
One-on-one consultation
Free one-on-one consultation with the representative from universities, colleges, TAFE across Australia.
Scholarships
Check your eligibility to get Scholarship.
Application Fee Waived at the event
Application fees will be waived for all the applicants who ever enrol at the Expo.
PR pathway Course
Receive proactive assistance from our education experts in choosing appropriate program or schools for further studies.
Skype Consultation
Free virtual consultation with representative for students outside Dhaka
Prizes
EXCITING PRIZES awaits you when you attend and submit your application during the event.
3 offices in Australia (Sydney, Melbourne & Brisbane)

We listen, We Discuss, We Advise, We Improve

Fully Automated Application

Phone, Live Chat & Email Support
One Stop Solution Centre

No Hidden Fees

Consultants Are QEAC And MARA Certified.

Scholarship Assistance
STUDYNET Sydney ( Head Office)
Suite 1.02, 233 Castlereagh Street, Sydney NSW 2000

0289 648 826

enquiry@studynet.com.au

http://www.studynet.com.au